07/12/2011
Interview with 01net.com
Meeting with Philippe Pinault, founder of blogSpirit and talkSpirit, and Alain Clapaud, journalist at 01net.com, a French website about computing actuality.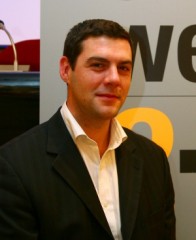 Alain Clapaud: What is the value added of your services beside other social networks?
Philippe Pinault: Many brand's own social networks are based on self-management, while we realized that this model does not work most of the time. We trust the Commnunity Managers have to initiate conversations, revive them, help members connect with each others, and lead the social network. Thereby, we work on evolving our tools to let the Community Managers go further, to also reach from the same administrative platform other social networks, like Facebook.
AC: What is your front end development strategy?
PP: Our clients are not the IT / IS departments, but the HR, PR, marketing,... departments. They look for solutions to satisfy their needs, that we are able to set up in a short time period and for a reasonable budget. We develop, from our software, a bespoke solution which matches with their specific uses: it could be an internal social network, a community platform,... or an online idea box which could be a valuable option for a specific case for exemple.
AC: What is your business development roadmap ?
PP: We would like to increase our service offers among some key accounts. There are still a lot of processes to equip. Moreover, we are setting up a UK operation, in London, and have started to take a look at opportunities in Asia. At last, Orange has selected our software to be part of their "Cloud Pro" service offer. These turnkey solutions in a self-service mode are a huge time-savings for these CEOs. This offer is dedicated to SMEs, from 0 to 50 employees; they are 3,5 millions in France. It is a real growth opportunity for our company.
The original article in French is here !